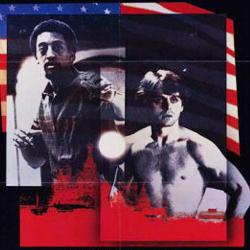 Other program information
Awards
Academy Awards
Won:
   Best Original Song: "Say You, Say Me" by Lionel Richie
Nominated:
   Best Original Song: "Separate Lives (Love Theme from White Nights)" by Stephen Bishop
Tharp teamed up with director Taylor Hackford for the film White Nights, starring Gregory Hines and Mikhail Baryshnikov.
The dance sequences in this film function differently than in Tharp's previous projects. In Amadeus, the dancing operates as a "play-within-a-play;" in Hair, as one of the musical-theater components. White Nights is a straight play and the actors, who are also world-class dancers, employ the choreography in developing their characters.
Tharp choreographed solos for Hines and Baryshnikov in their signature styles in addition to duets in a composite vocabulary that highlighted each dancer's strengths.   
Videos
Video Description
An excerpt featuring Baryshnikov and Hines.
Full music program
Songs from the Original Motion Picture Soundtrack:
1. "Separate Lives" - Phil Collins & Marilyn Martin
2. "Prove Me Wrong" - David Pack
3. "Far Post" - Robert Plant
4. "People on a String" - Roberta Flack
5. "This Is Your Day" - Nile Rodgers & Sandy Stewart
6. "Snake Charmer" - John Hiatt
7. "The Other Side of the World" - Chaka Khan
8. "My Love Is Chemical" - Lou Reed
9. "Tapdance" - David Foster
10. "People Have Got to Move" - Jenny Burton