Music details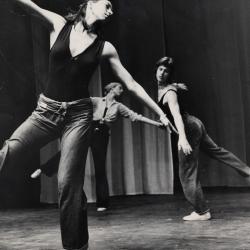 Premiere location place
Paris, France
Total number of dancers
7
Other program information
Presented at the Neuvieme Festival International de danse de Paris of 1971. 
The opening section of Torelli is a unison presentation of eight fundamental movement phrases in silence.  Each dancer then takes his or her place in a pool of light and music plays to indicate the start of the second section, wherein the eight phrases are manipulated and restructured on the spot. At the Galerie Theatre in Paris, the audience was encouraged to walk amongst the dancers, viewing the performance from within, as well as from the perimeter of the performance space. This work was first performed as the opening section of Sunrise/Noon/Sundown, in Fort Tryon Park, 1971.
Torelli is one of the works in the Tharp repertory that has evolved into a pedagogical project for dancers.  It explores ways in which given material can be manipulated and encourages instinctive decision-making skills. 
Videos
Video Description
Brief excerpts from the premiere performance.
Full music program
Violin Concerto Opus 8 n. 7 in D Minor, For Solo Violin, String & Continuo
Composed by Guiseppe Torelli
Published by Unicorn Records in 1956
Music details
Torelli | St. Paul's School
Oates Performing Arts Center
The One Hundreds - Torelli | Salem College
Hanes Auditorium, Elberson Fine Arts Center
Torelli | Rhode Island College
Sapinsley Hall, Nazarian Center
Torelli | Oakland University
Torelli | Oakland University
Torelli | Long Island University Dance Department
Long Island University - Brooklyn
Torelli | California Institute of the Arts
Sharon Disney Lund Dance Theater
Torelli | Yale University Dance Studies
Torelli | Trinity Laban Conservatoire - Dance
Trinity Laban Conservatoire of Music and Dance
Torelli | North Carolina School of the Arts
North Carolina School of the Arts
Torelli | Yale University
Torelli | Westmont College
Torelli | Joffrey Ballet School NYC
Torelli | University of Missouri - Kansas City
Torelli | Duke University Dance Program
Torelli | Montclair State University
Torelli | Ballet Ensemble of Texas
Torelli | The School - Kansas City Ballet
Torelli | Dartmouth College
Torelli | Frank Sinatra School of the Arts
Torelli | Columbia College Chicago
Torelli | Kutztown University of Pennsylvania
Torelli | New Jersey Dance Theatre Ensemble
Torelli | Jacksonville University
Torelli | Wayne State University
Torelli | University of California - Berkeley
Torelli | New Ballet Ensemble
Torelli | Edith Cowan University - Perth
Torelli | Yale University
Torelli | University of Kansas
Torelli | DeSales University
Torelli | Mid-Columbia Ballet
Torelli | Governor's School for the Arts
Torelli | Butler University
Torelli | Marymount Manhattan College
Torelli - Eight Jelly Rolls - The Fugue | Twyla Tharp Dance
Northern Michigan University
Torelli - The Bix Pieces (premiere) - The Fugue | Twyla Tharp Dance
Torelli - Eight Jelly Rolls - The Fugue | Twyla Tharp Dance
Torelli (premiere) - Piano Rolls (premiere) - The Fugue - Eight Jelly Rolls | Twyla Tharp and Dancers
Galerie Theatre, Theatre de la Cite Internationale