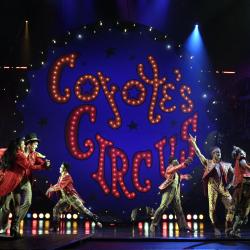 Premiere location place
San Diego, CA
Total number of dancers
10
Other program information
Just over a year after Movin' Out closed in New York, Tharp opened a new dance-musical in San Diego. Set to the lyrics and music of Bob Dylan, The Times They Are A-Changin' is the story of a struggling circus, the oppressive ringmaster Captain Ahrab and the strained relationship with his son Coyote. Seven dancers portray the clowns and acrobats in the Captain's circus. They perform acrobatic stunts, jump double Dutch, and bounce on trampolines built into the floor.   
Tharp wove the poetic qualities inherent in Dylan's music into the dream world in which the action takes place. The circus, a place of mystery and ambiguity, fosters archetypal characters and fantastic imagery.
The Times They Are A-Changin' set records at the Old Globe Theater in San Diego for the highest grossing show and highest ticket sales as of the date of closing in March 2006.
Videos
Video Description
An excerpt from "Summer Days."
The Times They Are A-Changin' - San Diego (premiere)