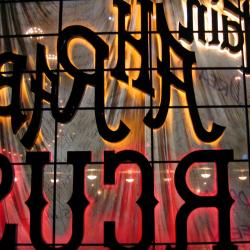 Premiere location place
New York, NY
Producer
Rick Steiner/Mayerson Bell Stanton Group
Roland Sturm
Ensemble
Lisa Gajda, Neil Haskell, Jason McDole, Charlie Neshyba-Hodges, Jonathan Nosan, John Selya, Ron Todorowski
Swings: Alexander Brady, Alaine Kashian, Keith Kühl, Marty Lawson, Joseph Putignano, Cary Tedder
Standbys:
Coyote: Jason Wooten
Captain Ahrab: John Herrera
Cleo: Katie Klaus
Total number of dancers
7
Other program information
Conceived by Twyla Tharp
Casting by: Jay Binder, Jack Bowdan/Megan Larche
Technical Supervisor: Smitty
Production Stage Manager: Arthur Gaffin
Associate Producers:  Jesse Huot, Ginger Montel, Rhoda Mayerson
Resident Director: Kim Craven
Dance Captain: Alexander Brady
Sound Design: Peter Hylenski
Orchestrations by: Michael Dansicker and Bob Dylan
Music Director: Henry Aronson
Music Coordinator: Howard Joines
The Band:
Conductor, Keyboards, Accordion, Percussion: Henry Aronson
Guitars, Banjo, Dobro, Harmonica: John "J.J." Jackson
Guitars, Banjo: Dave MacNab
Electric and Upright Bass: Paul Ossola
Drums, Percussion: Brian Doherty
After a successful run in San Diego, The Times They Are A-Changin' opened on Broadway.
The show presents an allegorical tale of a struggling circus, the oppressive ringmaster Captain Ahrab and the strained relationship with his son Coyote. Seven dancers portray the clowns and acrobats in the Captain's circus. During previews, Tharp continued to streamline the plot, while retaining its fluid and surreal elements. The poetic qualities in Dylan's music and lyrics are woven into a dream world in which the action takes place.
Videos
Video Description
An excerpt from "Summer Days."
The Times They Are A-Changin' - NYC (premiere)