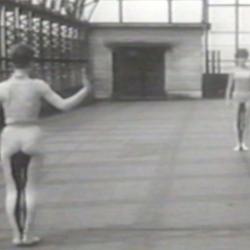 Other program information
Stride explores the relationship between movement and architecture. The four animate, moving dancers are juxtaposed with the inanimate, man-made structure, as they dance at right angles to each other and parallel to the surrounding space. The costumes – grey unitards – are lined with panels of dark fabric under the arms and along the inseam, areas of the body that generate the most heat. The costume design mimics the dark, steel beams that stand out in contrast against the light sky.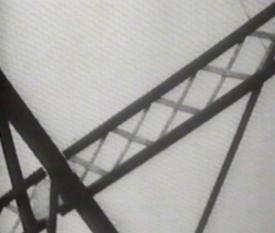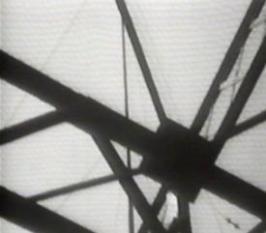 Screen captures from Stride showing the roof of The Polytechnic Institute of Brooklyn.
This film has never been screened in its entirety. Excerpts are included in Twyla Tharp's Scrapbook  (1983) and "Dancing" Episode 7 (1993) broadcast by WNET/Thirteen. 
Videos
Video Description
Kimball, Kinney, Nuchtern and Tharp perform on the rooftop of the Polytechnic Institute of Brooklyn; filmed by Robert Barry.