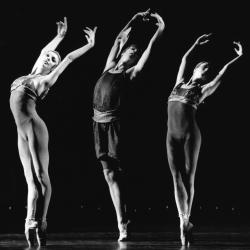 Premiere location place
Melbourne, Australia
Total number of dancers
6
In the summer of 1997, The Australian Ballet sent six dancers to New York City. They joined Tharp in the studio to learn and rehearse a new work she created for the company.
Set to a composition by Ki-young Kim, The Storyteller is a dramatic ballet with elements of primitive mysticism. The music combines Western forms and a piano with traditional Korean percussion, woodwinds and vocals. The dancers enter in a slow procession. One man – the oracle – emerges from the group. Five other dancers complete the cast, functioning either as a Greek chorus or the players in the oracle's tale. 
Videos
Video Description
Dancers of The Australian Ballet perform the opening section.
Full music program
Round Dance
Composed by Ki-Young Kim
The Storyteller | University of Cincinnati - College Conservatory of Music
University of Cincinnati, Patricia Corbett Theater
The Storyteller | Nashville Ballet
Tennessee Performing Arts Center
Storyteller (premiere) | The Australian Ballet