Music details
Audio sample
Original Score
by Michel Colombier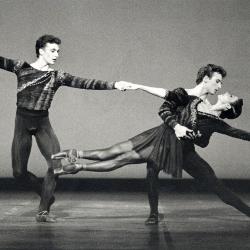 Premiere location place
Paris, France
Live music by
Paris Opera Ballet Orchestra
Soloists
Veronique Doisneau, Fanny Gaida, Nathalie Rique, Cécile Sciaux
Eric Camillo, Pierre Darde, Stephane Elizabe, Ludovic Heiden
Total number of dancers
12
Tharp was commissioned by Rudolf Nureyev to create a new work for the Paris Opera Ballet's 1989 season. She selected French artists as collaborators - Michel Colombier to compose the score and Gilles Dufour, at the time a designer for the house of Chanel, to create the costumes. The resulting ballet Rules Of The Game pays homage to the history and traditions of French theater and dance. 
The choroegraphy is both a showcase for the company's world-class dancers and a deconstruction of the classical lexicon. As the ballet concludes, the dancers face upstage in acknowledgment of the Palais Garnier before taking their bows to the audience.
Videos
Video Description
Legris, Gaida and Delanoe in rehearsal.
Full music program
1. Original Score by Michel Colombier
2. Violin Sonata no. 1  in G Minor, BWV 1001
Composed by J.S. Bach -1720
I. Adagio
II. Fuga (Allegro)
III. Siciliana
IV. Presto
Violin Solo:  Herve Le Floch
Conductor:  Michel Tabachnik
Music details
Audio sample
Original Score
by Michel Colombier
As Time Goes By - Rules Of The Game (premiere) | Paris Opera Ballet