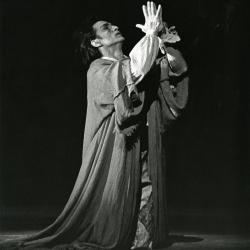 Premiere location place
London, United Kingdom
Ensemble
Natalie Bowhill, Chloe Davies, Michelle Davis, Mara Galeazzi, Natalie McCann, Laura Morera, Nicole Ransley, Gillian Revie, Rachael Whitbread
Ricardo Cervera, Matthew Dibble, Hubert Essakow, Bennet Gartside, Jonathan Howells, Alastair Marriott, Iñaki Urlezaga, Thomas Whitehead
Total number of dancers
30
Other program information
Conductor: Paul Murphy
Piano: Philip Gammon
Singers: Rodney Gibson, Patricia Cameron, Susan Felver, Andrea Hazell, Sian Meiner, Allison Rayner, Catherine Richardson, Donaldson Bell, Jonathan Coad, Neil Griffiths, Edward Parry, Philip Slane
Violin: John Brown, Yasuo Ichinose
Cello: George Ives
Bass: John Bakewell
Mr. Worldly Wise was commissioned by Sir Anthony Dowell, artistic director of London's Royal Ballet. The work featured company stars Irek Mukhamedov, Tetsuya Kumakawa and Darcey Bussell in the principal roles. The soloists and ensemble completed a world-class cast. Sets and costumes designed and executed by David Roger, create a surreal environment for Tharp's first three-act ballet.
The plot combines biographical details from the life of Italian composer Gioachino Rossini and the allegory "Pilgrim's Progress." The ballet's title character, danced by Mukhamedov, is ill-tempered, burdened by pride and the heavy expectations that come with success. He lugs a bag behind him - a representation of his spiritual burden. When the bag is opened, Kumakawa emerges from it, Mukhamedov's protégé.
Bussell enters and leads the two men into a dream, filled with a host of fanciful characters. When Mukhamedov emerges from the vision, he is transformed – humbled, gentrified and at peace.
Videos
Video Description
Royal Ballet dancers in dress rehearsal.
Full music program
ACT I
Kyrie, Petite Messe solennelle (1863)        
Overture, Bianca e Faliero, ossia Il consiglio dei tre (1819)
Overture, Eduardo e Cristina (1819)          
Duetto buffo di due gatti (wrongly attributed to Rossini)
La Foi, Trois choeurs religieux (1844)          
Overture (part), Guillaume Tell (1829)
ACT II
Prelude fugasse, Album de chaumiere          
Prelude semipastorale, Album de chateau
Tanrantelle pur sang (avec Traversee de la procession) , Album de chateau
Sicilienne, Quelques Riens pour album          
Les Raisins, Quatre Mendiants
Specimen de mon temps, Album de chateau
ACT III
La passeggiata, Album italiano          
Moderato, Menuetto from Sonata no.3, Sonate a quattro (c1804)
Prelude inoffensif, Album de chaumiere         
L'ultimo ricordo, Album italiano
Overture, Ermione (1819)
EPILOGUE
Kyrie, Petite Messe solennelle (1863)
Mr. Worldly Wise | The Royal Ballet
Mr. Worldly Wise | The Royal Ballet
Mr. Worldly Wise | The Royal Ballet
Mr. Worldly Wise | The Royal Ballet
Mr. Worldly Wise (premiere) | The Royal Ballet