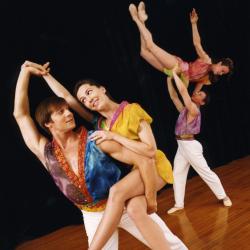 Premiere location place
Durham, NC
Dance sections
I. Allegro: Roberts, Selya, Asnes
II. Largetto: Tuttle, Selya, Parkinson, Roberts
III. Minuetto: Selya, Tuttle, Asnes, Roberts, Parkinson
IV. Tema con Variazioni: Parkinson, Roberts, Selya, Asnes, Tuttle
Total number of dancers
5
Other program information
Stage Manager:  Paul Bartlett
Company Manager:  Diane Daubert
Assistant to Scott Zielinski:  Juliet Chia
Assistant to Twyla Tharp:  Laila Sales
From the original program: "The Twyla Tharp Dance Foundation thanks Jeff & Patsy Tarr, Charles & Stephanie Reinhart, Santo Loquasto, David Kahne, Scott Zielinski, Burr & Burton Academy, Mark Springer/Quad Recording Studios NYC.
Ashley Tuttle appearing courtesy of American Ballet Theatre, Andrew Asnes and Francie Huber appearing courtesy of the Paul Taylor Dance Company."
After choreographing two big Romantic ballets (The Beethoven Seventh and The Brahms-Haydn Variations), Tharp reassembled a company and created Mozart Clarinet Quintet K. 581, a chamber ballet, for the new dancers.
The piece opens with a men's trio; their gentle humor and easy demeanor sets the tone for the following sections. The phrases are light and uninhibited but firmly planted in classical vocabulary. The dancers are grouped and regrouped in a variety of combinations - solos, double duets, a male-female-male trio - creating a feeling of familiarity within the ensemble.
Videos
Video Description
Roberts, Parkinson, Tuttle, Selya and Benjamin Bowman in a later performance.
Full music program
Quintet for Clarinet, 2 Violins, Viola and Violoncello in A major, K. 581 "Stadler Quintet"
Composed by Wolfgang Amadeus Mozart
Played by:
Charles Neidich (Basset Clarinet)
Vera Beths (Violin I)
Lucy van Dael (Violin II)
Jurgen Kussmaul (Viola)
Anner Bylsma (Violoncello)
On the album "Mozart Clarinet Quintet; Clarinet Quartet; Kegelstatt Trio"
Released by Sony -1993
Mozart Clarinet Quintet K.581 - Surfer At The River Styx | Twyla Tharp Dance
Wexner Center for the Arts
Mozart Clarinet Quintet K.581 - Sinatra Suite (excerpts) - Westerly Round | Twyla Tharp Dance
Mozart Clarinet Quintet K.581 - Surfer At The River Styx | Twyla Tharp Dance
Mozart Clarinet Quintet K.581 - Surfer At The River Styx | Twyla Tharp Dance
Mozart Clarinet Quintet K.581 - Surfer At The River Styx | Twyla Tharp Dance
New Jersey Performing Arts Center
Mozart Clarinet Quintet K.581 - Surfer At The River Styx | Twyla Tharp Dance
Kennedy Center for the Performing Arts
Mozart Clarinet Quintet K.581 (premiere) - Surfer At The River Styx (premiere) | Twyla Tharp Dance
Duke University, Page Auditorium