Music details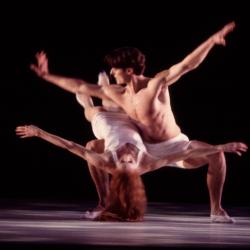 Premiere location place
New York, NY
Live music by
Wynton Marsalis Orchestra
Dancers
Tamara Barden, Shawn Black, Sandra Brown, Martha Butler, Kathleen Moore, Ashley Tuttle
Gil Boggs, Griff Braun, Andrei Dokukin, Guillaume Graffin, Vladislav Kalinin, Keith Roberts, John Selya
Total number of dancers
13
Other program information
Assistant to Miss Tharp: Shelley Washington Whitman
Assistants to Wynton Marsalis: Dennis Jeter III, John Schaffer
Technical Manager to Wynton Marsalis: David Robinson
From the original program: "Generous underwriting for this new production has been provided by Valerie and Charles Dyker, Nanette Laitman, Sydney and Frances Lewis, Patricia and Jeff Tarr, Cathy and Stephen Weinroth."
Tharp commissioned jazz musician and composer Wynton Marsalis to create a new score for Jump Start. Marsalis and his band played live during the premiere season at the Metropolitan Opera House. The dancers approach this high-octane dance with a spirited attack. Running crosses interrupt athletic solos and unison phrases, generating an excited, jovial energy onstage. 
Videos
Video Description
Dancers of American Ballet Theatre in the closing section.
Full music program
Original Score by Wynton Marsalis
Played by Wynton Marsalis Orchestra:
Wynton Marsalis, Trumpet
Ryan Kysor, Trumpet
Marcus Printup, Trumpet
Wessell Anderson, Alto and Soprano Saxophone
Andy Farber, Tenor Saxophone
Gideon Feldstein, Baritone Saxophone
Victor Goines, Tenor and Soprano Saxophone, Clarinet and Flute
Wycliff Gordon, Trombone
Ronald Westray, Trombone
Eric Reed, Piano
Ben Wolfe, Bass
Hertin Riley, Drums
Music details
Americans We (premiere) - How Near Heaven - Jump Start (premiere) | American Ballet Theatre