Music details
Audio sample
Variation 3: Romance
Composed by Benjamin Britten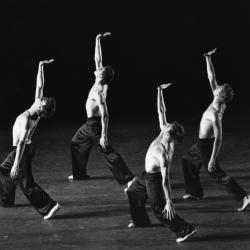 Premiere location place
Washington, DC
Live music by
American Ballet Theatre Orchestra
Dance sections
1.Theme/Adagio: Full Cast
2. March: Moore, Boggs, Graffin and Dokukin, Kalinin, Roberts, Selya
3. Romance: Herrera, Boggs, Graffin and Black, Brown, Mau, Tuttle, Brown, Chen, Snyder, Sundstrom
4. Aria Italiana: Herrera, Moore, Black, Brown, Mau, Tuttle, Brown, Chen, Snyder, Sundstrom
5. Bouree Classique: Boggs, Graffin, Dokukin, Kalinin, Roberts, Selya, Black, Brown, Mau, Tuttle
6. Wiener Walzer: Harvey, Askegard and Full Cast
7. Moto Perpetuo: Harvey, Herrera, Moore, Black, Brown, Mau, Tuttle, Brown, Chen, Snyder, Sundstrom
8. Funeral March: Harvey, Askegard, Herrera, Moore and Dokukin, Kalinin, Roberts, Selya
9. Chant: Herrera, Moore
10. Fugue and Finale: Full Cast
Chorus
Shawn Black, Sandra Brown, Sara Mau, Ashley Tuttle, Gabrielle Brown, Yan Chen, Johanna Snyder, Lisa Sundstrom
Andrei Dokukin, Vladislav Kalinin, Keith Roberts, John Selya
Total number of dancers
18
Other program information
Conductor: Jack Everly
Assistant to Miss Tharp: Shelley Washington Whitman
How Near Heaven was Tharp's first commission for American Ballet Theatre under the leadership of artistic director Kevin McKenzie. The ballet featured three of the company's principal ballerinas: Kathleen Moore, Paloma Herrera, in one of her first roles as principal, and Cynthia Harvey, who would retire the following year.
The two young ballerinas (Herrera was only 19 at the time) mirror each other through folk and social dance sequences. Quick steps and explosive jumps characterize their phrases. They are mythological twins – representations of duality and the constancy of change.      
The third ballerina is measured and controlled. She is often partnered in high, sustained lifts, elevating her above the action onstage. Poised and mature, she personifies unification.
Videos
Video Description
Dancers of American Ballet Theatre in a 1996 restaging.
Full music program
Variations on a Theme of Frank Bridge for String Orchestra, Op. 10
Composed by Benjamin Britten - 1937
Variation 1: Adagio
Variation 2: March
Variation 3: Romance
Variation 4: Aria Italiana
Variation 5: Bourrée classique
Variation 6: Wiener Waltzer
Variation 7: Moto perpetuo
Variation 8: Funeral March
Variation 9: Chant
Variation 10: Fugue and Finale
Music details
Audio sample
Variation 3: Romance
Composed by Benjamin Britten
Elements (premiere) - How Near Heaven - Americans We | American Ballet Theatre
Americans We (premiere) - How Near Heaven - Jump Start (premiere) | American Ballet Theatre
How Near Heaven (premiere) | American Ballet Theatre
Kennedy Center for the Performing Arts