Music details
Audio sample
Scherzo: Assai vivace
Performed by Maurizzio Pollini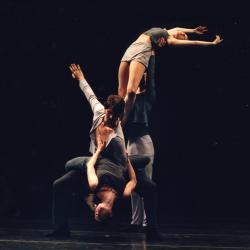 Premiere location place
Durham, NC
Total number of dancers
4
Other program information
General Manager: Jesse Huot
Company Manager: Timothy Grassel
Stage Manager: Alison Brummer
Grosse Sonate is a quartet for two men and two women; two modern dancers and two ballet dancers. Tharp maximizes the diversity of the cast and the movement options they bring. The dancing is courageous and moves through the architecture of Beethoven's Hammerklavier Sonata with power and determination. The dancers jump off the wooden panels placed upstage - soundboards bouncing the dancers back towards the audience.
Grosse Sonate is a celebration of dance, the commitment it requires and the satisfaction it returns. 
Full music program
Hammerklavier, or, Piano Sonata No. 29 in B-flat major, Op. 106
Composed by Ludwig van Beethoven
1. Allegro
2. Scherzo: Assai vivace
3. Adagio sostenuto
4. Introduzione: Largo - Fuga: Allegro risoluto
Music details
Audio sample
Scherzo: Assai vivace
Performed by Maurizzio Pollini
Grosse Sonate (premiere) - The One Hundreds | Tharp!
Duke University, Page Auditorium