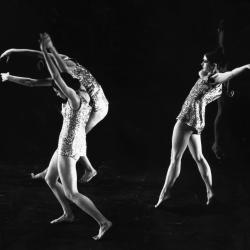 Premiere location place
South Bend, IN
Other program information
Film: Information by Hollis Frampton
This perfromance was a part of the Contemporary Festival of the Arts (Second Annual Notre Dame - South Bend Festival of Arts.)
Excess, Idle, Surplus is a quintet in three parts - "Excess," "Idle" and "Surplus."
In the first, five dancers perform simultaneous solos, each containing small movement phrases lasting ten to sixty seconds which are repeated. The solos are timed by Tharp so as to create recognizable moments of counterpoint.
During "Idle" a projector's beam provides the lighting as Hollis Frampton's film Information is projected on the back wall. The rhythmic structure of a composition by Morton Feldman was used to coordinate the dancers' parts. 
For the third section, the rhythm of Monteverdi's "Sonata Sopra: Sancta Maria, ora pro nobis" informs the dancers' pace. Tharp transcribed the sonata into her own style of dance notation to record the timing of the movement.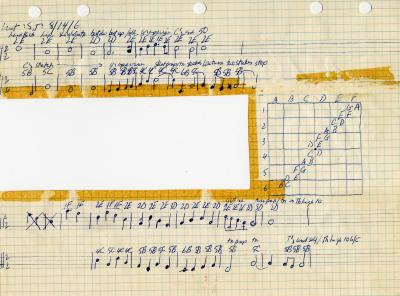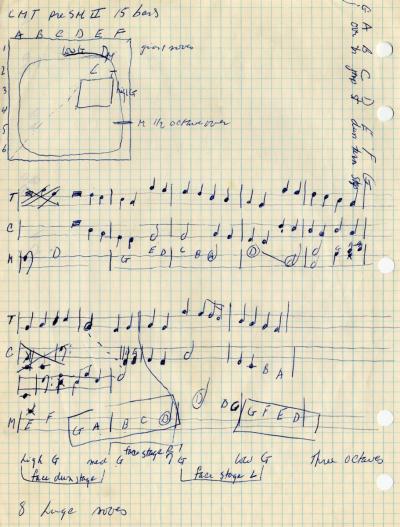 Pages 20 and 33 of 55 from Tharp's orginal choreographic notes.
No music is ever heard by the audience; the clacking and whirring of the projector provides the accompaniment. 
After 'Suite' (premiere) - Disperse - Excess, Idle, Surplus | Twyla Tharp and Dancers
Group Activities (premiere) - Disperse - Excess, Idle, Surplus | Twyla Tharp and Dancers
The Theatre of the Living Arts
Excess, Idle, Surplus (premiere) | Twyla Tharp and Dancers
Washington Hall, Notre Dame University