Music details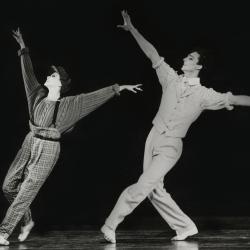 Premiere location place
San Francisco, CA
Ensemble
Claudia Alfieri, Gabrielle Brown, Sandra Brown, Laura Hood, Marie-France Levesque, Dana Stackpole, Ashley Tuttle, Greet Vinicker 
Ethan Brown, Daniel Chait, Robert Conn, Keith Roberts, Scott Schlexer, John Selya, John Summers, Robert Wallace
Total number of dancers
24
Other program information
Everlast tells the story of a champion boxer and the two women that struggle for his affections: the housemaid of a rich widow and the rich widow's daughter. Tharp brought in boxing trainer Teddy Atlas to work with the dancers and lend authenticity to the boxers' movements.  
Much of the action takes place backstage at the Palace Theater in 1919 at a time when it was the preeminent vaudeville venue in America. A pianist and three singers perform onstage with the dancers while a large overhead screen flashes surtitles in old-timey script.
Videos
Video Description
Members of American Ballet Theatre in studio and dress rehearsal.
Full music program
All songs composed by Jerome Kern
Orchestrated by William Brohn
You're Here And I'm Here
From the musical The Laughing Husband - 1914 
Written by Harry B. Smith 
Katy Did
Written by Harry B. Smith 
How'd You Like To Spoon With Me
From the musical The Earl and the Girl - 1905
Written by Edward Laska
You Never Knew About Me
From the musical Oh Boy! - 1917
Written by P.G. Wodehouse
Till The Clouds Roll By
Written by P.G. Wodehouse
From the musical Oh Boy! - 1917
Bullfrog Patrol
Written by Anne Caldwell - 1919
Left All Alone Again Blues
Written by Anne Caldwell - 1920
In The Heart Of The Dark
From the musical  Very Warm For May -1939
Written by Oscar Hammerstein, II
The Things I Want
From the film High, Wide and Handsome - 1937
Written by Oscar Hammerstein, II
I Told Every Little Star
From the musical Music in the Air- 1932
Written by Oscar Hammerstein, II
Put Me To The Test
From the film Cover Girl - 1944
Written by Ira Gershwin
Pick Yourself Up
Written by Dorothy Fields - 1936
She Didn't Say Yes, She Didn't Say No
From The Cat and the Fiddle - 1931
Written by Otto Harbach
 
Look For The Silver Lining
From the musical Sally 
Written by Bud DeSylva - 1920
Wedding In The Spring
From the film You Were Never Lovelier - 1942 
Written by Johnny Mercer
Who
From Sunny - 1925
Written by Otto Harback and Oscar Hammerstein, II
Music details
Everlast - Quartet - Bum's Rush | American Ballet Theatre
In The Upper Room - Bum's Rush - Quartet - Everlast | American Ballet Theatre
Everlast | American Ballet Theatre
Quartet - Everlast (premiere) - In The Upper Room | American Ballet Theatre