Music details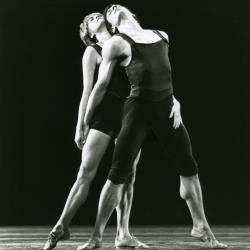 Premiere location place
New York, NY
Dance sections
I. Chaos
McKerrow/Braun, Butler/Roberts, Moore/Chapman, Selya, Boggs, Belotserkovsky, Tuttle, Brown, Black, Corella, Dokukin, Fagan, Kalinin, Martin, Maynard
II. Earth and Water (Air pour les violons)
Chapman, McKerrow, Belotserkovsky, Tuttle
III. Fire (Chaconne)
Moore, Braun, Roberts, Butler, Selya, Chapman, McKerrow, Tuttle, Black
IV. Air (Ramage)
Boggs, Braun, Selya, Chapman, Roberts, Belotserkovsky
V. Nightingales
Black, McKerrow, Tuttle, Moore, Butler, Brown
VI. Loure (La Chasse)
Selya, Black, Butler, Belotserkovsky, Moore, Braun, McKerrow, Chapman
VII. Tambourin
Brown, Boggs, Roberts, Braun, Tuttle, Chapman, Selya, Belotserkovsky
VIII. Sicilienne
Roberts, Butler
IX. Rondeau (Air pour l'amour)
Butler, Selya, Boggs, Braun, Chapman, Roberts, Belotserkovsky, Moore, McKerrow, Brown, Black, Tuttle
X. Caprice
Braun, Company
Total number of dancers
18
Other program information
Costumes executed by Barbara Matera
Ballet Mistress for Twyla Tharp: Shelley Washington Whitman
From the original program: "Jean-Féry Rebel (1666-1747) was a violinist, harpsichordist, conductor, and composer at the court of Versailles. Les Élémens was his last work, which he was coaxed out of retirement to write in 1737. Composed for the dancers of the Academia Royale, it is the old master's account of the evolution of the cosmic order from cosmic chaos."
The Elements follows the progression from chaos to order enacted by Rebel's Baroque score. In the opening section, classical vocabulary clashes with disparate movement styles. The dancers move through the rapid succession of steps with uninhibited quickness. Flashing lights and the dissonant music add to the primal energy onstage.
As the ballet develops, Tharp untangles the knot of movement presented in the opening sections. The elements are distilled in turn until the final section, when they are reassembled in rational, Newtonian harmony. 
Videos
Video Description
Dancers of American Ballet Theatre in rehearsal.
Full music program
Les Élémens
Composed by Jean-Féry Rebel - 1747
I. Le cahos
II. Loure I: La terre et l'eau
III. Chaconne: Le feu
IV. Ramage: L'air
V. Rossignols
VI. Loure II
VII. Tambourins I & II
VIII. Sicilienne
IX. Rondeau: Air pour l'Amour
X. Caprice
Music details
Elements | American Ballet Theatre
University of California, Berkeley
The Elements | American Ballet Theatre
Dorothy Chandler Pavilion
Elements (premiere) - How Near Heaven - Americans We | American Ballet Theatre