Music details
Audio sample
Var. I. Alla Marcia maestoso
Composed by Ludwig van Beethoven
Performed by  Nikolai Demidenko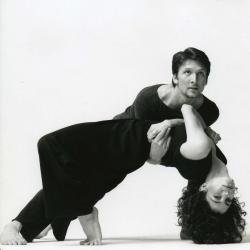 Premiere location place
Palermo, Italy
Dancers
Sandi Cooksey, Jennifer Howard, Jessica Lang, Gabrielle Malone, Sandra Stanton
Nigel Burley, Jay Franke, Roger C. Jeffrey, Shawn Mahoney, Victor Quijada, Andrew Robinson
Total number of dancers
11
Other program information
Production Director: Cynthia Argo
Rehearsal Director: Jaime Bishton
Stage Manager: Rick Murray
Nikolai Demidenko provided live piano accompaniment for additional European performances.
Awards
Olivier Award
Nominated:
   Outstanding Achievement in Dance: Twyla Tharp
In the early 1820s, Beethoven completed one of the most revered sets of variations for solo piano. Utilizing Anton Diabelli's simple Waltz in C Major, Beethoven composed 33 variations that demonstrate the breadth of his technical mastery, creativity, humor and knowledge of Western music.
The opening sequence of Tharp's Diabelli presents a simple movement theme – swinging arms, skips and gallops, a basic waltz step. From there, Tharp matches Beethoven variation for variation. She makes allusions, varies rhythm and tempi, inverts and reverses material from the theme. The mood of each section is distinct: one may be academic and technical, the next theatrical. 
Diabelli is a tour de force requiring technical facility, stamina and dramatic presence from the pianist and the dancers.
Videos
Video Description
Company dancers perform the theme and opening variations.
Full music program
Diabelli Variations, or, 33 Variations on a Waltz by Diabelli, Op. 120
Composed by Ludwig Van Beethoven
Var. I. Alla Marcia maestoso
Var. II. Poco allegro
Var. III. L'istesso tempo
Var. IV. Un poco pió vivace
Var. V. Allegro vivace
Var. VI. Allegro ma non troppo e serioso
Var. VII. Un poco pió allegro
Var. VIII. Poco vivace
Var. IX. Allegro pesante e risoluto
Var. X. Presto
Var. XI. Allegretto
Var. XII. Un poco pió moto
Var. XIII. Vivace
Var. XIV. Grave e maestoso
Var. XV. Presto scherzando
Var. XVI. Allegro
Var. XVII. Allegro
Var. XVIII. Poco moderato
Var. XIX. Presto
Var. XX. Andante
Var. XXI. Allegro con brio - Meno allegro
Var. XXII. Allegro molto
Var. XXIII. Allegro assai
Var. XXIV. Fughetta Andante
Var. XXV. Allegro
Var. XXVI. Allegro
Var. XXVII. Vivace
Var. XXVIII. Allegro
Var. XXIX. Adagio ma non troppo
Var. XXX. Andante, sempre cantabile
Var. XXXI. Largo, molto espressivo
Var. XXXII. Fuga Allegro - Poco adagio
Var. XXXIII. Tempo di Menuetto moderato
Music details
Audio sample
Var. I. Alla Marcia maestoso
Composed by Ludwig van Beethoven
Performed by  Nikolai Demidenko
University of Iowa, Hancher Auditorium
Diabelli (premiere) | Tharp!