Music details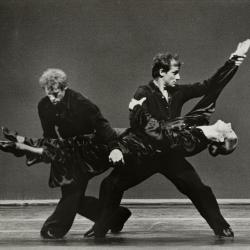 Premiere location place
Chicago, IL
Dancers
Ann Marie DeAngelo, Jan Hanniford, Darrell Barnett, Gary Chryst, Jerel Hilding, Russell Sultzbach, William Whitener
Total number of dancers
7
Five men weave, flock and scatter around one woman in this short work. Duets intersperse the group sections that slip between unison and canon phrases.
Cacklin' Hen, an excerpt from Happily Ever After, was toured in its premiere season by both The Joffrey Ballet and Tharp's company.
Videos
Video Description
Tharp company dancers in performance.
Full music program
Cacklin' Hen and Rooster Too
By The Skillet Lickers
Arranged by Richard Peaslee
Music details
Eight Jelly Rolls - Country Dances - Cacklin' Hen - 1903 - Baker's Dozen | Twyla Tharp Dance
Brooklyn Academy of Music
Baker's Dozen (preview) - 1903 - Country Dances - Cacklin' Hen - Eight Jelly Rolls | Twyla Tharp Dance
Sue's Leg - Simon Medley - Country Dances - Cacklin' Hen | Twyla Tharp Dance
Country Dances - Cacklin' Hen - The One Hundreds - Sue's Leg | Twyla Tharp Dance
Brooklyn Academy of Music
Cacklin' Hen (premiere) | The Joffrey Ballet