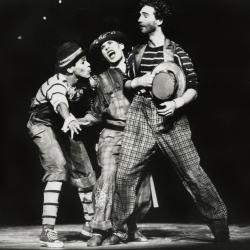 Premiere location place
Melbourne, Australia
Total number of dancers
11
Bum's Rush is an absurdist ballet structured as a vaudeville show. The piece opens with a man standing alone on a bare stage. As the light comes up, he doubles over in a fit of hysterical laughter. A trio of tramps enters, interspersing their dance with bawdy jokes; a man in squeaking sneakers provides the soundtrack for a duet.
The sections are incongruous and the situations nonrealistic but each serves to extend the theme of miscommunication and the conflict between verbal and physical languages.
A year after Tharp's company performed Bum's Rush, American Ballet Theatre produced a revised version of the ballet, featuring an elaborate set and an original score by Dick Hyman.
Videos
Video Description
Members of Twyla Tharp Dance in performance.
Full music program
Original music and arrangement by Michel Colombier
In Dahomey
Composed by Percy Grainger
Recorded by Music Historical Society
Blithe Bells (after Bach)
Composed by Percy Grainger
Recorded by Music Historical Society
You Always Hurt the One You Love
Recorded by Spike Jones
Written by Doris Fisher and Allan Roberts
From the Album "Thank You, Music Lovers" - 1960
Cocktails for Two
Recorded by Spike Jones
Written by Sam Coslow and Arthur Johnston
From the Album "Thank You, Music Lovers" - 1960
None But the Lonely Heart
Recorded by Spike Jones
Written by Pyotr Ilyich Tchaikovsky
Translation by Bill Westbrook
From the Album "Thank You, Music Lovers" - 1960
Everlast - Quartet - Bum's Rush | American Ballet Theatre
In The Upper Room - Bum's Rush - Quartet - Everlast | American Ballet Theatre
Bums Rush - Quartet - The Fugue - In The Upper Room | American Ballet Theatre
Bum's Rush - In The Upper Room | American Ballet Theatre
Bums Rush - The Fugue - Nine Sinatra Songs | Twyla Tharp Dance
New Zealand International Festival of the Arts
Bums Rush - The Fugue - Nine Sinatra Songs | Twyla Tharp Dance
Bums Rush - The Fugue - Nine Sinatra Songs | Twyla Tharp Dance
Bums Rush - The Fugue - Nine Sinatra Songs | Twyla Tharp Dance
Bums Rush - The Fugue - Nine Sinatra Songs | Twyla Tharp Dance
Bums Rush - The Fugue - Nine Sinatra Songs | Twyla Tharp Dance