Music details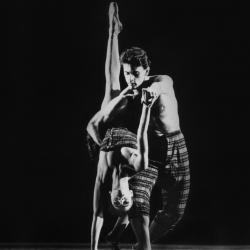 Premiere location place
San Francisco, CA
Dance sections
I. Tattoo: Alfieri, Padovani, Boggs, Wallace, Washington, Bishton, O'Day, Roberts
II. Country Gardens: Yeager, Bocca
III. Trio: Washington, O'Day, Roberts
IV. Quartet: Alfieri, Padovani, Boggs, Wallace
V. Country Garden Variations: Yeager, Bocco with Anderson, Brown, Lynn, Tuttle, Chait, Morrison, Selya, Van Fleteren
VI. Suite: Padovani, Wallace, Anderson, Lynn, Chait, Morrison, Alfieri, Boggs, Brown, Tuttle, Selya, Van Fleteren, Washington, Bishton, O'Day, Roberts, Yeager, Bocca
VII. Double Quartet: Washington, Bishton, O'Day, Roberts, Alfieri, Padovani, Boggs, Wallace
VIII. Fugue: Company
IX. Gigue: Company
X. Epilogue: Yeager, Bocca and Company
Total number of dancers
18
Other program information
From the original program: "Brief Fling is sponsored by Sydney and Frances Lewis, Stephen D. Weinroth, The JCT Foundation, Mr. and Mrs. Charles M. Diker and the Andy Warhol Foundation for the Visual Arts, Inc. Miss Tharp thanks Mr. Mizrahi and Mr. Colombier for their generosity."
Brief Fling is Mikhail Baryshnikov's last commission from Tharp during his tenure as artistic director of American Ballet Theatre. The title references both the traditional Scottish dance and a short-lived romance. Isaac Mizrahi's tartan costumes divide the dancers into clans of blue, red, green and off-white.
In the opening section, two soloist couples in red and a quartet in green punch out syncopated phrases to a military tattoo. The principal couple clad in blue performs an extended set of variations to an English folk song backed by the ensemble dancers dressed in off-white. The finale features each clan in succession, compounding into a furioso fugue. 
The score by Michel Colombier intersperses Percy Grainger's sunny interpretations of traditional melodies from the United Kingdom with an ominous electronic score. 
Videos
Video Description
Opening sections performed by dancers of American Ballet Theatre.
Full music program
Original Score by Michel Colombier
Country Gardens (Traditional)
Arranged For Piano by Percy Grainger - 1918
Handel In The Strand
Arranged by Michel Colombier
Composed by Percy Grainger 1911-1947
Music details
Brief Fling | Colorado Ballet
Brief Fling | Colorado Ballet
Brief Fling | Colorado Ballet
Brief Fling | Pacific Northwest Ballet
Brief Fling | Pacific Northwest Ballet
Brief Fling | Pacific Northwest Ballet
Brief Fling | Pacific Northwest Ballet
Brief Fling | Pacific Northwest Ballet
Brief Fling | Pacific Northwest Ballet
Waiting at the Station (premiere) - Brief Fling - Nine Sinatra Songs | Pacific Northwest Ballet
Brief Fling | American Ballet Theatre
Kennedy Center for the Performing Arts
Brief Fling | American Ballet Theatre
Brief Fling | Bayerisches Staatsballett
Brief Fling | Boston Ballet
Brief Fling | American Ballet Theatre
Brief Fling | American Ballet Theatre
Brief Fling | American Ballet Theatre
Kennedy Center for the Performing Arts
Brief Fling | American Ballet Theatre
Brief Fling - In The Upper Room | American Ballet Theatre
Orange County Performing Arts Center
Brief Fling (premiere) | American Ballet Theatre