Music details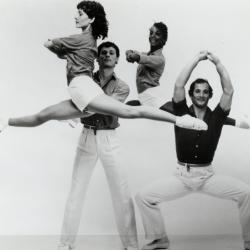 Premiere location place
Dayton, OH
Dance sections
Book I (Solo for a Male Dancer): Colton
Book II (Quartet): Washington, Kurshals, Carrafa, Freydont with Way
Total number of dancers
6
Brahms Paganini is set to both books of Johannes Brahms' "Variations on a Theme by Paganini," a virtuosic composition for solo piano.
A male dancer performs the entire first book of variations alone. Rapid turns and large jumps explode out of quick weight shifts. In Tharp's style of easy virtuosity, he slides expertly from one variation to the next.
The second book is danced by a quartet. The movement is infused with athletic dynamism that pushes the dancers' strength and determination. A female soloist intersperses the powerful partnering with echoes of the preceding section.
Brahms Paganini is a tour de force for both the dancers and pianist, requiring the highest levels of technical proficiency and stamina.
Full music program
Variations on a Theme by Paganini, Opus 35 (Books I & II)
Composed By Johannes Brahms
Music details
Country Dances - Beethoven Opus 130 - Brahms Paganini | Twyla Tharp Dance (Tour)
Country Dances - Beethoven Opus 130 - Brahms Paganini | Twyla Tharp Dance (NY Season)
Country Dances - Beethoven Opus 130 - Brahms Paganini | Twyla Tharp Dance (Residency)
Brahms Paganini | Kansas City Ballet
Octet - Brahms Paganini - As Time Goes By - Nine Sinatra Songs | Twyla Tharp Dance
Sextet - Brahms Paganini - Baker's Dozen - In The Upper Room | Twyla Tharp Dance
Sextet - Baker's Dozen - Brahms Paganini | Twyla Tharp Dance
Brahms Paganini - The Fugue - Nine Sinatra Songs | Twyla Tharp Dance
Sorrow Floats - The Fugue - Nine Sinatra Songs - Brahms Paganini | Twyla Tharp Dance
Brahms Paganini - Uncle Edgar - The Fugue - Deuce Coupe III | Twyla Tharp Dance
Brahms Paganini - Uncle Edgar (premiere) - The Fugue - Ocean's Motion | Twyla Tharp Dance
Brahms Paganini - Short Stories - The Fugue - Eight Jelly Rolls | Twyla Tharp Dance
Eight Jelly Rolls - Short Stories - Brahms Paganini | Twyla Tharp Dance
The Rags Suite - Short Stories (premiere) - The Fugue - Brahms Paganini | Twyla Tharp Dance
Murray Theater at Ravinia
Country Dances - Brahms Paganini - Sue's Leg | Twyla Tharp Dance
Saratoga Performing Arts Center
Oceans Motion - Brahms Paganini - Baker's Dozen | Twyla Tharp Dance
Ocean's Motion - Brahms Paganini (premiere) - Deuce Coupe III (premiere) | Twyla Tharp Dance