Premiere Company:
Twyla Tharp Dance
Dancers:
John Carrafa, Richard Colton, Anthony Ferro, Raymond Kurshals, France Mayotte, Tom Rawe, Twyla Tharp, Christine Uchida, Shelley Washington, Jennifer Way, William Whitener, Rose Marie Wright
Dance Sections:
I. Relaxin'
II. Echoes of Spring
III. Tango à la Caprice
IV. Concentrating
V. Relaxin'
Total Number of Dancers:
12
Much of the choreography in Baker's Dozen was created for the Hollywood production of Hair, but was not included in the final edit. "I was thinking a lot about economy [after filming]. Nothing should be squandered or disregarded," Tharp recounts in Confessions of a Cornermaker (1981). "As in nature, all things would be recycled and would accrue." Rather than leave it on the cutting room floor, Tharp repurposed the movement and set it to compositions by Willie "The Lion" Smith – music she had been dancing to for nearly a decade. 
Baker's Dozen embodies this sense of economy and integration, which is closely tied to Tharp's Indiana Quaker roots. The movement expresses harmony, playfulness and easy virtuosity. The structure is based on multiples of twelve: six duets, four trios, three quartets, two sextets, and finally twelve solos – reinforcing the Quaker values of the individual's importance to the community.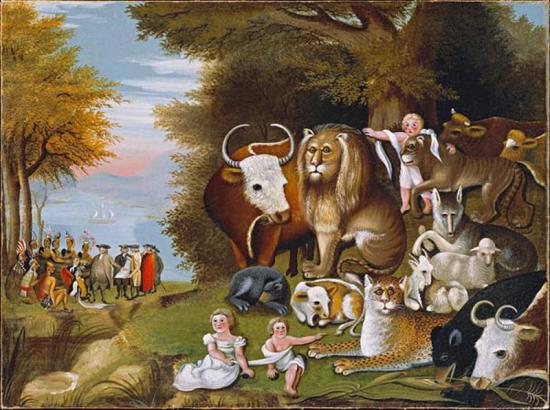 Baker's Dozen exemplifies the harmony in "A Peaceable Kingdom," by Quaker artist Edward Hicks.
Music Program:
1. Relaxin'
Composed by Willie 'The Lion' Smith
Transcribed and Performed by Dick Hyman
2. Echo of Spring
Composed by Willie 'The Lion' Smith - 1939
Transcribed and Performed by Dick Hyman
3. Tango A La Caprice
Composed by Willie 'The Lion' Smith
Copyright 1939
Transcribed and Performed by Dick Hyman
4. Concentratin'
Composed by Willie 'The Lion' Smith
Transcribed and Performed by Dick Hyman
5. Relaxin'
Composed by Willie 'The Lion' Smith
Transcribed and Performed by Dick Hyman